Jeg havde en forventning om, at nu når jeg var gravid for 2. gang – så ville jeg alt andet lige få en lettere barsel, da jeg jo havde prøvet det hele før og kunne slappe mere af med alle de udfordringer, der nu kan komme. Det viste sig så at blive alt andet!
I slutningen af min graviditet, mødte vi den første udfordring af mange, da Oscar lå med numsen nedad og absolut ikke havde tænkt sig at flytte sig, uanset hvor meget jeg stod på hovedet. Vi fik hjælp af Signes Scanningsklinik til øvelser, for at få hjælp til at løsne væv og ligamenter omkring livmoderen for at optimere et vendingsforsøg. Efter, hvad der føles som hunredevis af scanninger, kom vi ind til en overlæge, der skulle forsøge at vende ham. Knyttede hænder under numsen, dybe vejrtrækninger og en læge med et godt, fast greb – i andet forsøg blev han vendt uden at smutte tilbage.
Vandet gik
Han blev vendt i uge 36, og den efterfølgende tid fik jeg flere og flere plukveer, og han gjorde sig uden tvivl klar til at komme til verden. Da jeg ramte uge 38 var jeg TRÆT! Jeg besluttede mig derfor, at de næste par uger indtil han kom, skulle jeg slappe af, sove lure og samle kræfter til fødslen. Vi skulle bare lige have klippet hæk og ordnet have, så kunne jeg smække benene op og ellers slappe af. Så efter en lang havedag (38+2), havde Casper og jeg smidt os på sofaen og tændt for Netflix. Der gik ikke mange minutter, så mærkede jeg en plop og det føltes som om, at jeg tissede i bukserne. "FUCK – jeg tror at vandet er gået, jeg går lige på toilet og tjekker" – sagde jeg til Casper. Og det var slet ikke nødvendigt, for jeg var gennemblødt. Og jeg var så skuffet, for jeg var så dødtræt – og så skulle jeg til at føde! Jeg følte mig virkelig snydt for de sidste to uger. Men ud skulle han, for der gik kun en halv time før jeg mærkede de første små veer.
Midt i al vores panik, skulle Casper have aflyst sine klienter for den næste uge, ringe til sine forældre, sin søster (hun er jordmoder og skulle med til fødslen) og have pakket de sidste ting, som jeg ikke havde fået pakket til den famøse hospitalstaske. Jeg var i kendt jordmoderordning, så jeg ringede til deres vagttelefon og jeg blev så glad, da jeg hørte hvem der tog telefonen. Det var den jordemoder, jeg havde set flest gange gennem min graviditet. Vi aftalte at mødes til et tjek og en ctg-måling, og så kunne jeg blive sendt hjem igen indtil det var tid.
Vi var hurtigt på Skejby, omkring 21.20 og vores jordmoder stod klar med et undersøgelsesrum. Jeg kom på briksen og blev undersøgt, og vi kunne heldigvis konstatere at han lå som han skulle stadig, med hovedet ned. Inden han blev vendt, var jeg fast besluttet på at forsøge med en sædefødsel (numsen først), hvis det ikke lykkedes at få ham vendt med alle vores tiltag. Det var derfor ret vigtigt at få afklaret, da en sædefødsel er en del mere kompliceret, kræver overvågning og noget mere personale på stand-by.
Mens jeg lå på briksen og fik målt ctg, blev mine veer kraftigere og kraftigere, og det fik også Caspers søster op ad stolen for at mærke efter og kigge strimlen. Den var god nok – tiltagende veer og med kortere og kortere interval. Vi kunne derfor hurtigt konstatere at vi ikke blev sendt hjem, men skulle videre til en fødestue. Og stædig som jeg er, skulle jeg da tage trappen op til 1. sal, hvor vi skulle være – for det er jo så godt at bevæge sig under en fødsel. Jeg måtte stoppe en del gange op af de få trin, og Casper kiggede noget bekymret på mig. Jeg måtte grine tilbage til ham, og sige at det var ok, men at jeg simpelthen kunne mærke vandet løbe for hvert trin jeg tog, og med veerne oveni, føltes det bare alt for komisk.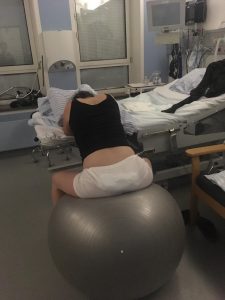 Fødslen
De næste par timer forsøgte jeg at hvile mig, men veer tog hurtigt til og jeg havde alt for meget uro til at ligge ned. Jeg kom op på en stor bold, hvor jeg kunne sidde og rokke lidt rundt og bevæge hofterne. Det var en stor hjælp! Tiden indtil han kom er noget slørede for mig, for veerne blev vildt kraftigere og jeg skulle koncentrere mig om at følge med og være i det. Jeg kan dog huske et utal af toiletbesøg, fordi jeg skulle tisse hele tiden, og hver gang jeg var på toilettet, fik jeg en lille vestorm, hvor veerne kom oveni hinanden. Efter et mislykket besøg i badekarret, kom jeg op og så kunne jeg mærke at det var altså nu. Jeg aner ikke, hvordan jeg kom ind til briksen igen – måske jeg blev slæbt/løftet lidt. Det var den vildeste følelse, at der var så meget smæk på mine veer, at jeg nærmest ikke skulle gøre noget udover at være i min krop og følge med. 3-4 presseveer og så kunne jeg løfte den fineste, lille bitte baby op til mig.
Fortsættes…