Vi havde fået en lille bitte baby på små 3 kilo og 50 cm, han var så fin og lignede sin storesøster helt vildt. Jeg havde det godt ovenpå fødslen, men det var noget svært at få ham til at tage ordentligt ved brystet. Vi tænkte ikke videre over det, men var sikre på at det nok skulle lykkedes, når vi kom hjem i rolige omgivelser.
Da vi kom til Skejby til høretest mm efter et par dage, bad vi om hjælp til amningen, da han stadig havde meget svært ved det – og han havde tabt omkring 10% af sin fødslesvægt. Han var kommet ned omkring 2850 g. De kom med gode råd og rettede teknik til, men rådede os til at få sundhedsplejersken til at komme dagen efter og hjælpe. Da hun kom var hun ikke i tvivl om at han skulle have klippet sit tungebånd (!). Det fik han da han var 5 dage gammel, og det gjorde en forskel på hans sutteteknik, men han tog stadig ikke på.
Vi prøvede alt. Vække ham, få ham til at spise igen og igen. Malke ud. Give ham mælk i kop efter amning. Vi endte med at bruge et SNS-ammesystem, hvor han fik ekstra mælk ind samtidig med at han spiste ved mig. Det var et omstændigt projekt, hvor han skulle spise med faste intervaller og ikke måtte sove længere end 2 timer ad gangen. Men det var den måde, hvor jeg kunne fastholde amningen, så han ikke skulle på sutteflaske. Jeg vidste at det ikke ville være en holdbar løsning, men jeg håbede på at det kun var en periode til han var større og havde krafter til at spise 100% ved mig. Han faldt nemlig i søvn ved 90% af måltiderne…
Til trods for det store arbejde, tog han max 50-100 g på om ugen. Da tiden kom for 5 ugers undersøgelse, fik vi derfor en tid ved vores læges ferie-afløser, for at få tjekket ham igennem, nu da han havde så svært ved at tage på og spise.
5 ugers undersøgelse ved lægen
Han var ikke stor fan af at skulle pilles ved af en fremmed mand, så han stak hurtigt i et hyl og jeg kunne simpelthen ikke få ham til ro. Han lyttede til hans hjerte et par gange, selvom han skreg. Til sidst bad ham mig om at sætte mig ind i et andet rum og amme ham, så han kunne falde til ro, og så ville han tage sin næste patient imens – og så ville han komme og lytte på ham igen.
Jeg kan huske, at jeg synes han var lidt irriterende og vedholdende. Oscar skreg og skreg, men til sidst fik jeg ham til at spise lidt – og falde i søvn. Så der sad jeg, og tiden gik. Jeg var faktisk bange for at de havde glemt mig, men til sidst kom lægen ind igen sammen med sin sekretær og lyttede på ham. Så forklarede han mig stille og roligt, at han kunne høre en mislyd på hans hjerte, og at nu ville han ringe til Skejby, fordi vi skulle tage direkte derud for at få ham undersøgt nærmere. (Vi har senere fået at vide af flere, at det var imponerende fanget af vores læge, og at det ikke var alle læger, der ville have opdaget dén mislyd.)
Jeg fik ringet efter Casper, og han kom sammen med Sofie og hentede os, så vi kunne køre derud. På det her tidspunkt anede vi ikke, hvad vi kunne forvente os, og det hele var så surrealistisk. Samtidig havde vi Sofie med os, så vi var også nødt til at være rolige i situationen, så hun ikke skulle blive bange.
Udredningen på Skejby
Resten af dagen gik på Børnemodtagelsen, hvor der kom flere forskellige læger ind og kigge på ham, tage blodtryk på begge ben og arme – som så viste sig at være forskelligt på armene, og han fik taget EKG og havde en iltmæthedsmåler på sig. De spurgte os alle om han svedte meget, og om han var forpustet… Og med den hedebølge vi havde sidste år, så var det svært at vurdere om han svedte atypisk meget, for vi svedte jo også selv helt vildt. Det kan jeg godt se i dag at han gjorde.
Vi kunne høre på dem, at de frygtede at han havde en forsnævring på hovedpulsåren. De forsøgte at forberede os på at en operation kunne være nødvendig, men ville samtidig helgradere sig og ikke udelukke andre ting.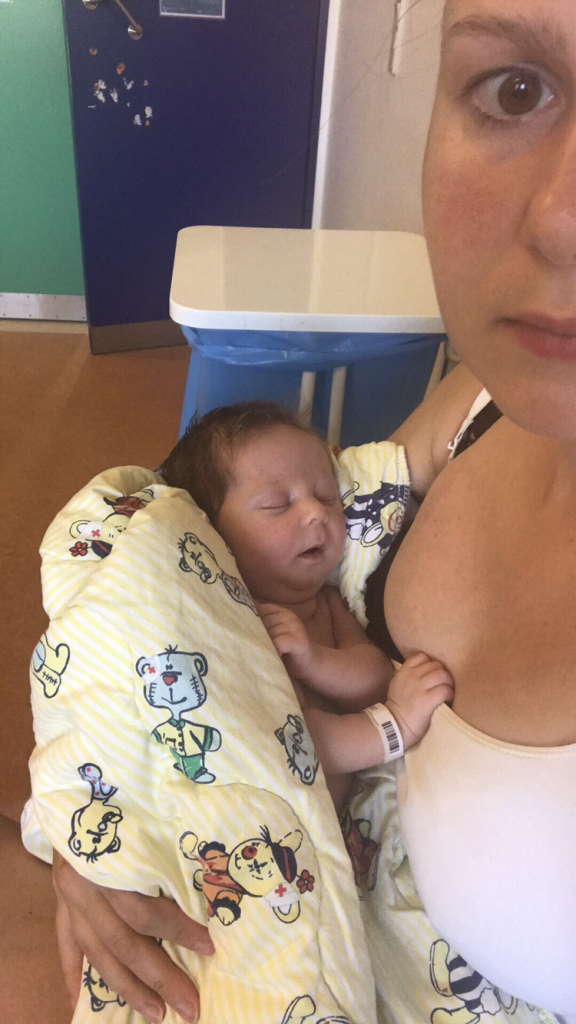 Mine forældre kom og hentede Sofie, og Casper kørte hjem og hentede nogle ting til os, for vi kunne godt se på hele situationen, at vi skulle være der mindst en dag mere.
Dagen efter blev en af hjertelægerne ledig, og vi kunne få ham scannet. Jeg var helt dårlig af nervøsitet, og kunne ikke holde ud at kigge på skærmen imens, for jeg forestillede mig alt muligt, der var galt med hjertet. Hun kom heldigvis med "gode" nyheder, og kunne forklare at han havde en af de mindste hjertefejl, man kunne have. En Persisterende ductus arteriosus (PDA), og pga det øgede tryk i hjertet havde han også et hul imellem hjertekamrene. En operation var nødvendig, men han skulle vokse sig noget større før det ville blive aktuelt.